Waffer card gives its holders a variety of benefits, incentives, and services at over (701) participating enterprises and organizations, divided into thirty different commercial classifications. Today we will talk about Waffer card program sharjah and where it can be used.
What is Waffer Program
The Waffer card program, introduced in 2013 by the Sharjah Human Resources Department, is a first-class social project that intends to deliver a number of features, facilities, and incentives in collaboration with private sector institutions.
Waffer Program Objectives
The Sharjah Government Waffer Program has a number of objectives, the most important of which are:
Increasing the number of Sharjah government employees who are affiliated with all of the institutions and employers that are responsible for them.
Continuous support and development of the local economy.
Sharjah's Government is Overjoyed Cardholders can save money by taking advantage of special offers.
Increase all employees' job happiness by a significant amount.
Providing support for the foundations of public-private partnership and cooperation.
Promoting a thrifty and saving culture.
Waffer Card Discounts Areas
In collaboration with a group of different parties, the Human Resources Program in Sharjah offers a wide range of discounts by offering a certain discount % for each of these offers for a specific length of time! The Sharjah Government Waffer Program covers the following areas and offers discounts:
Investing in real estate
Decoration and Furniture
Shopping on the internet
Services in Banking
veterinary assistance
Office equipment and supplies
electronics
Discounts on entertainment
education
Management of the Store
Travel agencies and airlines
Accounting and legal services
Cars, spare parts and bikes
pharmacies
Hotels
Events and Photography
Shops
health centers
jewelry and watches
Restaurants and desserts
Design, clothes and shoes
Food
Clubs and health food
beauty centers
Insurance companies
construction services
Communication Services
Maintenance and cleaning companies
pest control
smart apps
Oasis Mall discounts
Waffer Card Benefits and Cashbacks
Benefits of the Waffer card include:
All branches provide a 30% discount on medical services.
All branches offer a 30% discount on dental services.
10% cashback on domestic and international purchases made online, using stored cards on websites and apps, Samsung Pay, and Apple Pay.
On international retail purchases, you can earn 2% cashback indefinitely.
On domestic retail purchases, you can earn 1% cashback indefinitely.
How to get a Sharjah Waffer Card for the emirate's retirees
The Emirate of Sharjah can provide a Waffer card to retired employees by completing a few simple processes, which include:
Visit the program's official website to access the public information portal.
Select the "Issue a Waffer Card for Emirate of Sharjah Retirees" option.
Send a request after correctly entering the essential information in the corresponding places.
Waffer program Targeted group
There are around 25000 employees and their families.
Retired government personnel from Sharjah.
Employees of the University of Sharjah.
Waffer Application by the Sharjah Government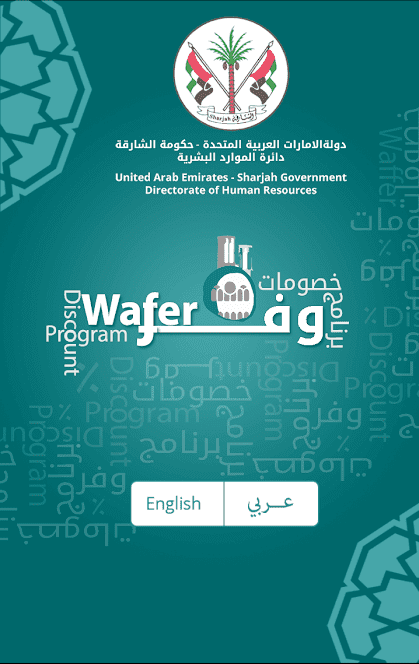 To make things easier and more convenient, you can now explore all Waffer offerings for Sharjah government employees and stay up to date on all changes via a smartphone application that can be downloaded quickly and easily on Android and iPhone devices! Everything available on the site's pages can be found in the Waffer Program for Sharjah Government Employees application!
Waffer card program Sharjah could be the best opportunity. With a vast number of benefits, cashback and incentives, you can spend as much as you want, Waffer card will pay you back!.
Read also