Volunteering in Abu Dhabi encourages a volunteering culture in order to improve social cohesion and benefit society as a whole by promoting volunteering engagement and participation, as well as enhancing skills-based and service-based volunteering.
If you are looking for paid volunteer jobs in Abu Dhabi, here is where you should search.
Types of Volunteering in Abu Dhabi 2023
Volunteering is done by individuals or organizations that do not require specialist skills and must receive the required permits from the relevant authorities. This form of volunteering entails a wide range of voluntary activities (such as beach cleaning, orientation, and sports training).
Participating in activities, events, and initiatives for a single occasion (such as National Day, Special Olympics, Formula One, and so on)
Voluntary Service in Institutions:
In which personnel from the public, private, or third sectors participate, which is frequently part of the Corporate Social Responsibility "CSR" program. These are typically charitable or community-based initiatives.
Volunteer activities that are carried out entirely or partially via the internet. Online volunteering, remote volunteering, and electronic volunteering are other terms for virtual volunteering.
Volunteering as a Specialist:
Volunteering that relies on specialized abilities necessitates getting the requisite authorization from the appropriate authorities, including professionals (such as doctors, lawyers, engineers, and consultants).
Volunteering in Disasters:
Short-term or temporary volunteer activities to be carried out in emergency situations, crises, and disasters.
Where to get paid volunteer jobs in Abu Dhabi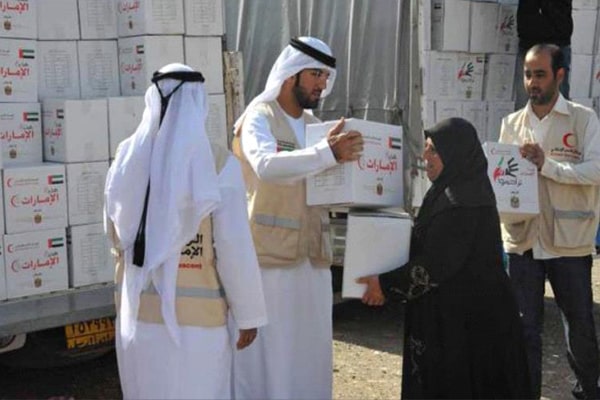 Make A Wish | Abu Dhabi Branch
Looking for a place to volunteer in the UAE? Make A Wish Children's Wishes UAE, a local branch of the worldwide famous organization, grants the wishes of children suffering from life-threatening conditions. Volunteer as a wish granter, office worker, translator, fundraiser, speaker, or event worker and take satisfaction in spreading joy when it is most needed.
Address: Street,8, Villa # 7,Hamdan Bin Mohammed St, Khalidiyah St, Abu Dhabi, UAE.
Phone Number: +971 2 666 5144
Through the formation of a qualified cadre of volunteers to respond to calamities, Sanid contributes to increasing society's resilience and response to disasters, crises, and emergencies.
Address: F99M+C5G – Al Nahyan, Abu Dhabi, United Arab Emirates.
Phone number: +971 800 72643
A United Arab Emirates-based program to increase awareness about the necessity of breast cancer screening and to provide facilities for early detection, treatment, and recovery from the disease. You can sign up to volunteer and help them raise awareness.
Address: Abu Dhabi, United Arab Emirates.
Phone number: 06 506 5542
The Emirates Foundation's "Takatof" program is one of the most important efforts aimed at boosting public awareness about social problems and encouraging the culture of volunteering as a way of life among various community groups. It allows children to volunteer for a variety of humanitarian and social programs, allowing them to use their time in a meaningful way that polishes their character and develops their feeling of duty towards their society.
Address: P.O.Box NO:111445, Abu Dhabi, United Arab Emirates
Phone Number: +971-2-6988600
Emirates Red Crescent Society
The UAE Red Crescent attempts to support society on a personal level or through Red Crescent-affiliated organizations on social, cultural, and economic levels.
Sign up for their extensive volunteer program if you are interested in helping people, healthcare, caregiving, first aid, or anything else comparable.
These are 5 places where you can look if you're searching for paid volunteer jobs in Abu Dhabi. If you want to make a difference in the UAE, consider volunteering in Abu Dhabi with one of these organizations.
Read also